April 13, 2013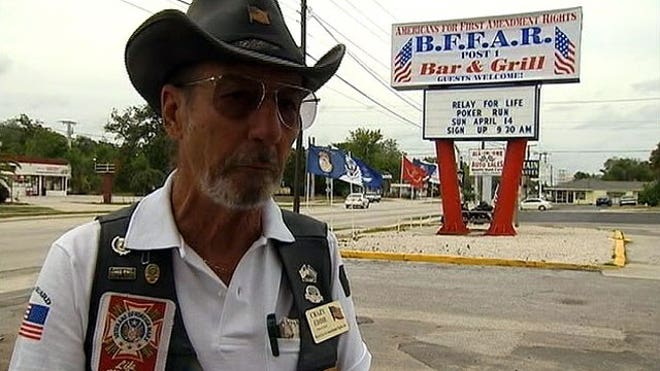 Eddie Colosimo faces $300 in fines for every day he chooses to fly flags honoring branches of the military in front of his restaurant.
(MyFoxOrlando.com)
A wounded Marine veteran who owns a bar and grill in a city outside Tallahassee is fighting a city ordinance that calls for him to remove military flags from in front of his establishment, or face a $300-a-day fine.
MyFoxOrlando.com reports that Eddie Colosimo, who owns the Holy Hill's Bikers for First Amendments Rights, a non-profit that helps support military veterans, was informed that the flags violate new city codes that were passed in March.
"You're going to tell me that I can't honor them… show respect for them?" Colosimo told the station. "I'm sorry; bring your handcuffs. I'll go to jail. I don't care."
The law requires businesses to apply for a permit to display temporary signs or banners on their property, excluding the American flag, state flags or POW flags. He has flags for the Navy, Air Force and Marines.
Colosimo, a wounded Marine Corps vet with family currently in the military, usually flew the flags on the weekends, but after he received the notice, he's been flying them daily.
He is now facing a $300 fine from City of Holly Hill for every day he chooses to fly the flags.
Colosimo said comparing his armed services flags to beer signs "doesn't fly."
Officials announced they will hold a special hearing to discuss Colosimo's case.
Colosimo's granddaughter, grandson and son-in-law all currently serve in different branches of the military.
Origin: MyFoxOrlando.com.