1/4/2015
By Dan Taylor, National Monitor | December 28, 2014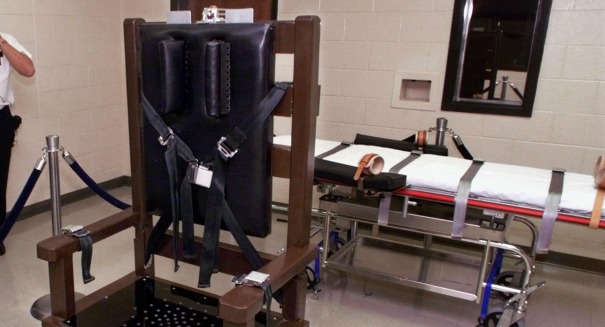 After some ugly executions, states have had a hard time getting lethal injection drugs, and have thus been examining older methods of execution instead of thinking about abandoning the practice altogether.
Recent botched executions aren't doing much to sway proponents of the practice in a number of states where it remains legal — in fact, they're causing states to look at older and potentially more brutal methods of execution, according to a recent report.
Oklahoma's most recent execution of Clayton Lockett in April was an extremely disturbing one, in which he writhed while being pumped with lethal drugs, prompting executions to eventually draw the curtains for the gallery. The warden described it as a "bloody mess," according to the
Associated Press
.
The execution joined a pair of others in Ohio and Arizona, giving capital punishment opponents ammunition to attack the legality of the practice, hoping to use the incidents to encourage people to change their minds on the death penalty. However, the report indicates that the campaign does not appear to be working.
Oklahoma Gov. Mary Fallin suspended further executions after the incident with Lockett, but only to review the methods of execution, and months later unveiled an overhauled execution chamber that will resume killing the condemned in January.
In fact, the recent ugly deaths have caused states to explore older methods of execution due to the difficulty in securing the right lethal drugs.
Lydia Polley, a member of the Oklahoma Coalition to Abolish the Death Penalty, said in the report that the group had a "flash of hope" that the botched execution would help their cause, but it ultimately "just led to people thinking of better ways to kill them."
Oklahoma has killed more inmates than any state except neighboring Texas since the death penalty was reinstated in 1976. Officials have even provided tours of the $104,000 renovated execution chamber to the media.
The Oklahoma House of Representatives recently conducted a study on using nitrogen gas to execute inmates, which would make it the first state to make legal the use of hypoxia by gas as an execution method.
Oklahoma isn't the only state to explore alternatives to drugs, which have been hard to come by as many pharmaceutical companies have refused to sell them the compounds they need.
Tennessee, for example, has passed a law reinstating the electric chair in instances where it can't get the right drugs, and Utah has even examined resurrecting the firing squad.
Still, proponents have pledged to push on, even if many states remain firmly in favor of capital punishment, regardless of the risks.
Have something to say? Let us know in the comments section or
send an email
to the author. You can share ideas for stories by contacting us here.
source