2/10/2015
Millersville University mourns after first homicide in campus history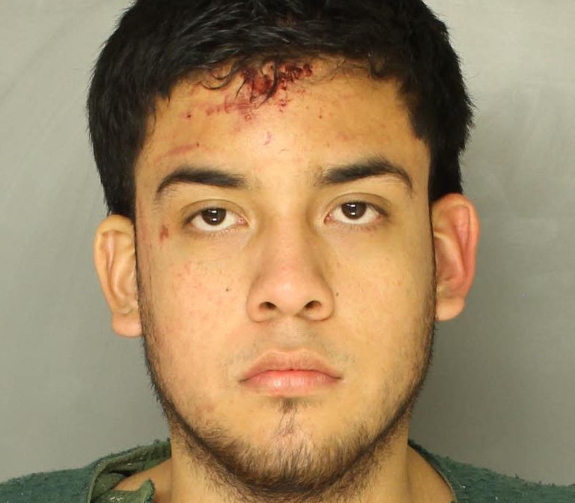 Gregorio Orrostieta
A Millersville University freshman "fought for her life" while being beaten and ultimately strangled during a fight with her boyfriend in her dorm room early Sunday, officials said.
Gregorio Orrostieta, 19, of Kennett Square, is being held without bail at Lancaster County Prison on charges of criminal homicide and aggravated assault in the death of
Karlie Hall, 18, of Chadds Ford
.
"She was not hit just one or two times," Lancaster County District Attorney Craig Stedman said at a press conference Monday afternoon. "She suffered a lot of blows."
Officials said it is the first homicide on the MU campus — a campus that is now looking within itself for strength and solace.
Orrostieta admitted to police that he and Hall got into a fight and that he pushed her. He also said he "gave Hall a back hand to her face," at which time she became unresponsive, according to a police affidavit.
He called 911 around 5 a.m. and reported that she'd had a heart attack.
Orrostieta was kneeling over Hall and administering CPR when medical help arrived.
Stedman, however, said authorities believe those CPR attempts were "completely fake" and said Hall had already been dead for several hours.
Other residents of Bard Hall heard a struggle inside the room between 2 and 2:30 a.m. "That's when we believe she would have been murdered," Stedman said.
Of the period of time Orrostieta remained in the room before calling 911, Stedman said, "We can only speculate as to what he was doing and what he was thinking. The thing we are clear about is that he's responsible and we're going to hold him accountable."
Orrostieta was charged late Sunday with aggravated assault. A charge of criminal homicide was added after an autopsy was completed Monday.
Dr. Stephen Diamantoni said Hall died "as the result of strangulation and multiple traumatic injuries."
Officials said Hall and Orrostieta had been dating since high school and had been together about a year.
Stedman said investigators will examine the relationship for evidence of any previous incidents of domestic violence. He declined to say if any such evidence had yet been found or if police had ever been called to an incident involving the couple.
MU spokeswoman Janet Kacskos said Orrostieta is not a student at the college. He is a 2014 graduate of Kennett High School, according to an administrator there. Officials said they don't know if he is a student at another college.
According to a police affidavit, a Millersville University police officer spoke to Orrostieta in the hall outside Hall's room and noticed "Orrostieta had blood smeared on his face and a cut on his forehead. Orrostieta's shirt was ripped and he had visible scratch marks on his chest," the affidavit says.
"(The officer) also observed Orrostieta had blood all over his hands, blood on his jeans."
Later, the affidavit says, Orrostieta told police he and Hall had been at a party and gotten into a verbal dispute. Orrostieta said Hall hit him at the party.
The two made up, Orrostieta told police, and returned to Hall's room around 1:30 a.m.
That's when the fight broke out, according to the affidavit.
Besides shoving Hall to the ground, causing her to hit her head on a chair, Orrostieta told police he "gave Hall a back hand to her face, at which time the altercation ceased when Hall became unresponsive," the affidavit says.
Other residents of Bard Hall told police they heard a "disturbance" in a room on the second floor around 2 a.m., the affidavit says.
They heard yelling and the sound of furniture being moved. A resident assistant tried to make contact with the people in the room around 2:30 a.m., but got no response, and heard nothing more from the room, the affidavit says.
During the course of their investigation, police reviewed video surveillance footage from the dorm, which captured the hallway outside Hall's room. Police verified that no one entered the room "during the critical period" except for Hall and Orrostieta, the affidavit says.
Orrostieta was in the company of police for the remainder of the day Sunday until he was charged later that night, therefore there was no threat to the campus, according to Millersville University police chief Pete Anders.
A campus in mourning
Michelle Perez, MU interim vice president of student affairs, said Hall's death has left the campus "shocked and saddened to the core."
She said Bard is more like a big, family house rather than a residence hall and said the students there are very close.
"This has shaken their world."
Perez said Hall was a business administration major with a concentration in management.
During a candlelight vigil Monday night, students draped the Marauder statue — outside the Student Memorial Center — with a black cloth, tied with a gold ribbon.
As an icy rain fell, students and staff leaned on each other — physically and emotionally — as the college faces some of its darkest days.
In his remarks, MU president Dr. John Anderson said Karlie would want us to "celebrate life" and encouraged students to reflect on what's truly important.
One student speaker said she was "saddened and angry" and said that although "we'll never be able to bring her back, we can come together to help the Hall family."
She said a fundraiser would be established to assist with funeral costs for Hall, with leftover money donated to a local women's shelter and to an animal shelter where Hall volunteered.
Although the vigil drew about 200 members of MU's campus and spilled over a large area outside the student center, students made it clear their grief was private.
Students formed a circle, using flags and umbrellas, to keep the media away. Some held up papers or objects in attempts to block TV cameras.
In comments during the 20-minute program, one student reminded her peers that they are not required to talk to the media.
The vigil included a performance of "Amazing Grace" and ended with a chilling rendition of "Hallelujah."
Residents of Bard Hall invited staff and students to return to their dorm for a continued ceremony.
Counselors will remain on campus in the coming days. Students seeking counseling can call 872-3122 or visit the third floor of Lyle Hall.
POLICE AFFIDAVIT 1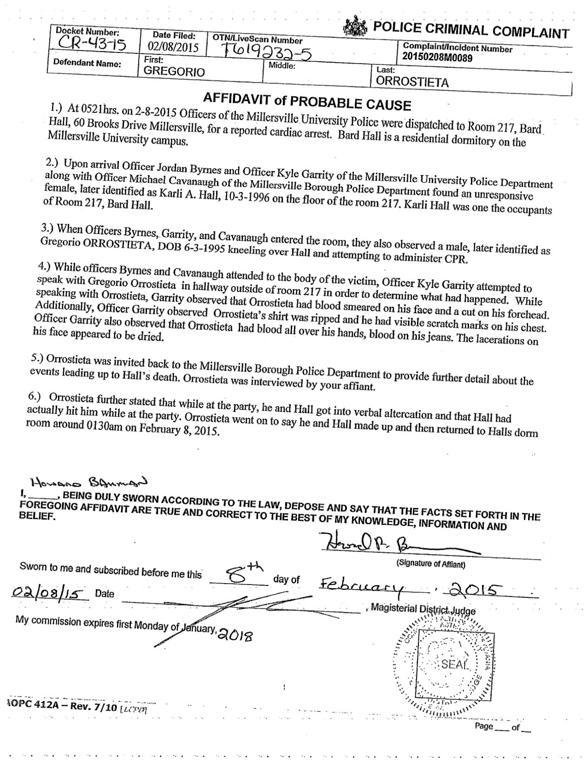 POLICE AFFIDAVIT 2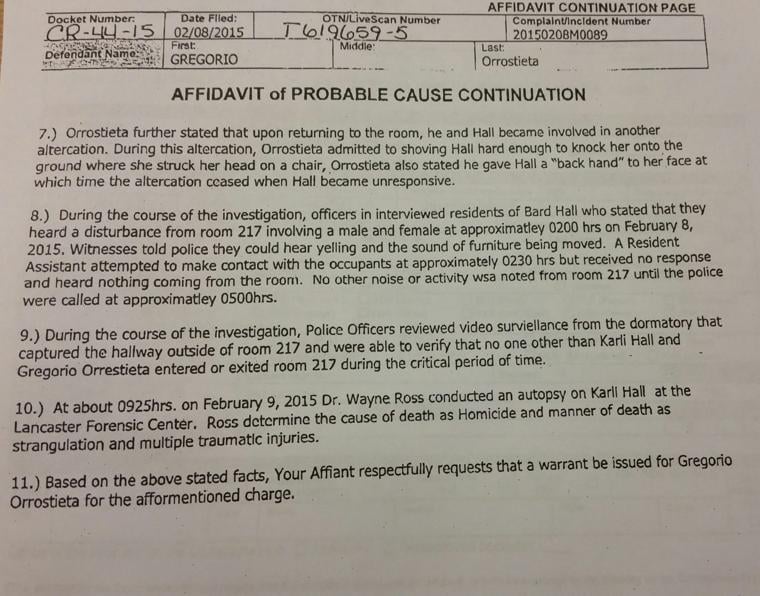 source