2/15/2015
It appears that the temptation of getting 'free stuff' is not only appealing to 'government entitlements' crowd..
Why State Police might stop you on the Turnpike:
Normal driving can appear suspicious to trained police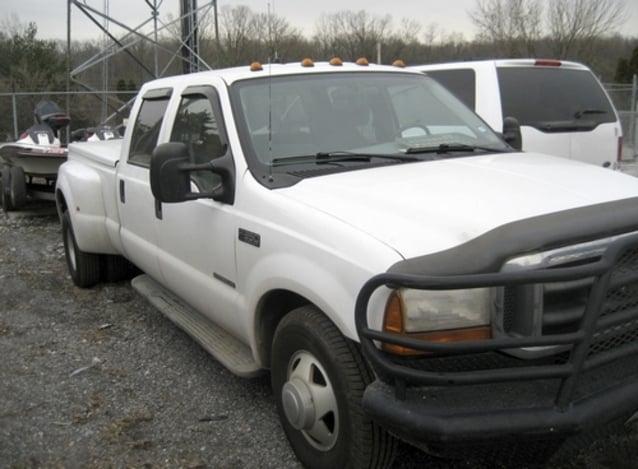 One of two vehicles involved in a 2012 drug bust on the Pennsylvania Turnpike that netted $600,000 worth of marijuana.
Police who stop drug dealers and seize their assets have been trained to follow a script.
"It's usually a weeklong training, very specialized," said Trooper Adam Reed, coordinator of the Pennsylvania State Police Public Information Office. "The topics include finding hidden compartments, specific search and seizure laws as they apply to Pennsylvania and other methods to identify different criminal indicators," or red flags that might alert police that a driver is transporting drugs.


In a case pending before the U.S. Court of Appeals for the Third Circuit, Pennsylvania State Trooper Justin Hope — who has been involved in dozens of stops and seizures in Lancaster County — articulated why he thought a black SUV he spotted on the Turnpike near Valley Forge in 2011 might be carrying drugs:


"(1) the driver did not look at him when he passed even though Hope had looked directly at the driver, and it was common for drivers to look at him when his car was parked in the spot it was in;

(2) the driver's hands were in the "10-and-2 position" on the steering wheel, which Hope explained is intended to convey safe driving to a police officer and is contrary to the driving habits of most drivers;

(3) two people were in the vehicle, which is common amongst drug traffickers transporting narcotics;

(4) it was mid-Friday morning, which was significant because the majority of the public works during that time period;

(5) an SUV was being driven,which is the most common vehicle used to transport large amounts of drugs;

(6) the SUV was an out-of-state rental vehicle, and rental vehicles are often used by drug traffickers; and

(7) the SUV was being driven from Philadelphia, a source city for illegal narcotics."


There were indeed drugs in the vehicle, and the driver, Rodney Frierson, was convicted of drug offenses in 2013. But the federal defenders now appealing his conviction argue in court papers that the factors cited by Hope can make almost any driver seem "suspiciously normal."


Suspicion alone isn't enough to pull someone over, but it often prompts a trooper to tail a vehicle and pull it over if he spots an infraction.


Criminal proceedings and narratives contained in the forfeiture petitions filed by the commonwealth asking to keep money seized during a stop describe very similar scenarios unfolding from there.


The stop proceeds as any other might. But if the troopers think they smell something funny, if the driver seems unusually nervous or has more than one cell phone — more red flags — troopers may summon the driver to the cruiser, write a citation for the original infraction and tell the driver he or she is free to go.


Then they'll ask: Do you mind if we ask you a few more questions?


Wray termed this "re-engagement," noting the red flags may still not be enough to constitute "reasonable suspicion" — so police can't hold a driver unless there's another basis for reasonable suspicion.


But if the driver voluntarily agrees to answer the additional questions, the ensuing interaction is legally deemed a "mere encounter," distinctly different from an "investigative detention."
But the former can quickly turn into the latter.


Troopers may ask: Do you have anything illegal in the car? If the driver says "no," troopers may ask to search it.


If the driver won't consent, troopers can bring in drug-sniffing dogs. If the dogs "hit" on something, it constitutes "reasonable suspicion" — and the vehicle can be searched. If drugs are discovered, the driver can be arrested, any cash seized and ultimately forfeited to the commonwealth.


The scripted approach, said David Harris, a constitutional law scholar at the University of Pittsburgh, "is constitutional, as in, just inside the lines drawn by the Supreme Court.


"And it is pushing every advantage the Supreme Court has given law enforcement."
source
On Turnpike, state police find drugs - and lots of money
On Jan. 12, 2014, as the troopers patrolled the Pennsylvania Turnpike in Clay Township in northern Lancaster County, they saw a Volvo S60 traveling 91 mph. They checked the Florida registration, learned it was a rental car — and pulled it over.
The driver was Fred Miller, the passenger Kevin J. Washington Jr., of Glenolden, Delaware County. Miller produced a rental agreement, but his name wasn't on it. Hope asked to search the car; Miller refused, but "Hope knew from dealing with rental companies in the past that he could search the vehicle when the renter was not present in the car," according to court documents.
Inside the car was a black leather bag containing $20,780 in cash. Washington said it was his — casino winnings.
There were no drugs, no weapons. Washington wasn't charged with any crime.
But a police dog detected traces of drugs on the money, as did a subsequent ion scan. Hope told Washington the money would be seized. A month later the commonwealth sought permission from the Lancaster County Court of Common Pleas to keep it. Washington didn't contest it, the court signed off — and the money was added to a growing pile.
More drugs, money seized
Throughout Pennsylvania, state police have stepped up highway patrols to fight drug dealing. State police reported seizing $107 million worth of drugs in 2014 — twice the amount taken in 2013.
But it's not just drugs: police are also taking millions in cash from motorists — some of whom, like Washington, are never charged with a crime.
Pennsylvania's "civil asset forfeiture" law allows police to seize money and other assets they believe are connected to crime. The state then petitions the courts to keep the cash.
Pennsylvania state police generate millions in forfeitures every year. Troopers Hope and Straniere are responsible for a big chunk of it.
State records show that between 2012 and 2014, one or both troopers were involved in more than three dozen Turnpike stops in Lancaster and surrounding counties that yielded drugs, weapons — and, collectively, more than $520,000.
Few of the seizures and subsequent forfeiture petitions were challenged; but in several cases, criminal charges were thrown out after judges ruled that the troopers had no "probable cause" to make a stop.
State records provided to LNP do not contain information about race, and state police say they do not engage in racial profiling. But many attorneys who have represented clients stopped by troopers on the Turnpike say they believe race to be a factor in why some drivers are stopped, and others aren't.
"
There is a significant pattern with these two troopers, looking for black males in rental cars on the Pennsylvania Turnpike
," said Patrick Lomax, a defense attorney from Media, Delaware County, who argued a forfeiture case here.
"This is a cash cow for Pennsylvania."
Turnpike is fertile hunting ground
State police have undergone extensive training on how to spot drug dealers — and seize more assets. (
See related story
)
It's produced a windfall for the commonwealth.
In 2004-05, state police recorded $729,661 in forfeiture revenue, cash and the sale of forfeited property. The amount rose to $3.46 million in fiscal year 2012-13, the latest figures available.
State police share those proceeds with the Attorney General's office.
"Turnpike, routes 81, 83, 95, all are very busy corridors and have high levels of drug activity," said Trooper Adam Reed, coordinator of the Pennsylvania State Police Public Information Office.
State police assign "intelligence officers" to the highways to disrupt the flow of drugs and contraband; Hope and Straniere work the Turnpike in Lancaster and surrounding counties, and are involved in virtually every major seizure here.
Of 30 forfeiture petitions filed in the Lancaster County Court of Common Pleas originating from a Turnpike stop, Hope, Straniere or both were involved in 29. One or both were involved in another 11 stops that led to seizures/forfeitures in Lebanon, Cumberland, Chester and Berks counties.
If the courts approve forfeitures in all the cases, the state will collect $520,746 in currency, plus dozens of cell phones, vehicles and other assets to be sold for cash. The money is used to fund enforcement.
State police declined to make Hope or Straniere available for interviews.
The two have been involved in some huge busts here. For example, in January 2012 the duo pulled over two separate vehicles in Rapho Township. The stop ultimately yielded 200 pounds of marijuana, ecstasy pills and $40,585 in cash.
Other stops yielded far less. In at least nine cases no drugs were found and no charges were filed — but troopers nonetheless seized cash.
Lomax, the Media attorney, represented Wyokin Cook of Sharon Hill, Delaware County, stopped by Straniere on the Turnpike in Clay Township in January 2013. Cook was driving a rental car, but his name wasn't on the rental agreement, so Straniere — later assisted by Hope — took possession of the car and searched it.
They found a bag; Cook gave consent for a search and the troopers found $5,400 — money Cook said he planned to use to buy a car.
No drugs or other contraband was found, though a drug-sniffing dog alerted handlers to the smell of drugs on the money and a later ion scan showed the presence of cocaine.
The troopers seized the money, claiming in the forfeiture petition that Cook planned to use it to buy drugs.
While most forfeiture petitions aren't challenged, Cook hired Lomax, who argued Straniere didn't have probable cause to stop the vehicle and that the commonwealth failed to establish a nexus between the money and drug activity.
Lancaster County Court of Common Pleas Judge David Ashworth disagreed and awarded the money to the state.
Judges quash cases
Other judges have been more sympathetic.
In October, Lancaster County Judge James Cullen tossed out felony drug-dealing charges against Aaron E. Jackson, ruling that Trooper Hope acted on a "hunch" — not reasonable suspicion — when he searched Jackson's vehicle on the Turnpike in East Cocalico Township in 2013.
Defense attorney Alan Goldberg argued that Jackson's constitutional rights were violated, saying, "There are numerous state police troopers working the turnpike ... trying to find drugs in movement. They have some unique ways of doing what they do."
Goldberg did not return several messages seeking comment.
In 2011, Chester County Judge David F. Bortner Jr. suppressed all evidence against Lorenzo Samuel McClain, who was stopped by Straniere in 2010. The stop yielded a handgun and marijuana, but Bortner ruled Straniere lacked probable cause to stop McClain and the trooper's testimony that McClain was speeding wasn't credible:
"This entire case was initially portrayed as a routine speeding violation vehicle stop," Bortner wrote. "Only after questioning by the court did we learn that Trooper Straniere was actually parked at the Turnpike Valley Forge entrance ramp, checking license plates, and because [McClain] failed to make eye contact with him as he passed, and the plate check revealed [McClain] was driving a rental vehicle, the Trooper pursued him for a distance of six miles, as fitting a suspected drug trafficking profile."
Attorney Kevin Wray of Media, Delaware County, represented McClain. The judge, he said, asked if he thought the alleged speeding was simply a pretext for the stop. "I said, 'Of course,' " Wray said.
"Theoretically, all a police officer really needs is just enough to pull you over," he said. "But even with that, something wasn't quite right here."
In a case pending before the U.S. Court of Appeals for the Third Circuit, federal defenders argue that Hope exceeded his authority in stopping Rodney Frierson, who was sentenced last year for conspiracy to distribute cocaine and felony possession of a firearm. "What the testimony in this case shows at bottom is that once Trooper Justin Hope observed two black men pull onto the Pennsylvania Turnpike in a rented SUV and clocked them for speeding, he was going to prolong the stop for however long to investigate a hunch they were drug traffickers," the federal defenders argued in court papers.
There is, experts say, a fine line between aggressive policing and unconstitutional overzealousness. But crossing that line can be too tempting when so much cash can be found on the other side, Lomax said.
"This is blatantly wrong, especially in cases such as what happened to Mr. Cook," he said. But "this is a source of revenue for law enforcement.
"It's free money."